Thure von Uexküll's Contribution to German Psychosomatic and Psychosocial Medicine: An Interview
References
Kull, K., & Hoffmeyer, J. (2005). Thure von Uexküll 1908-2004. Sign Systems Studies, 33(2), 487-494.
Tuffs, A. (2004). Thure von Uexküll. BMJ: British Medical Journal, 329(7473), 1047.
von Uexküll, T., Geigges, W., & Herrmann, J. M. (1993). Endosemiosis. Semiotica, 96(1-2), 5-52.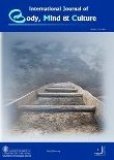 Downloads
How to Cite
Atarodi, S., Rafieian, S., & Salavati, M. (2014). Thure von Uexküll's Contribution to German Psychosomatic and Psychosocial Medicine: An Interview. International Journal of Body, Mind and Culture, 1(2), 97-101. https://doi.org/10.22122/ijbmc.v1i2.14
License
This work is licensed under a Creative Commons Attribution-NonCommercial 4.0 International License.