Psychotherapy as epigenetic medicine: How to change the memes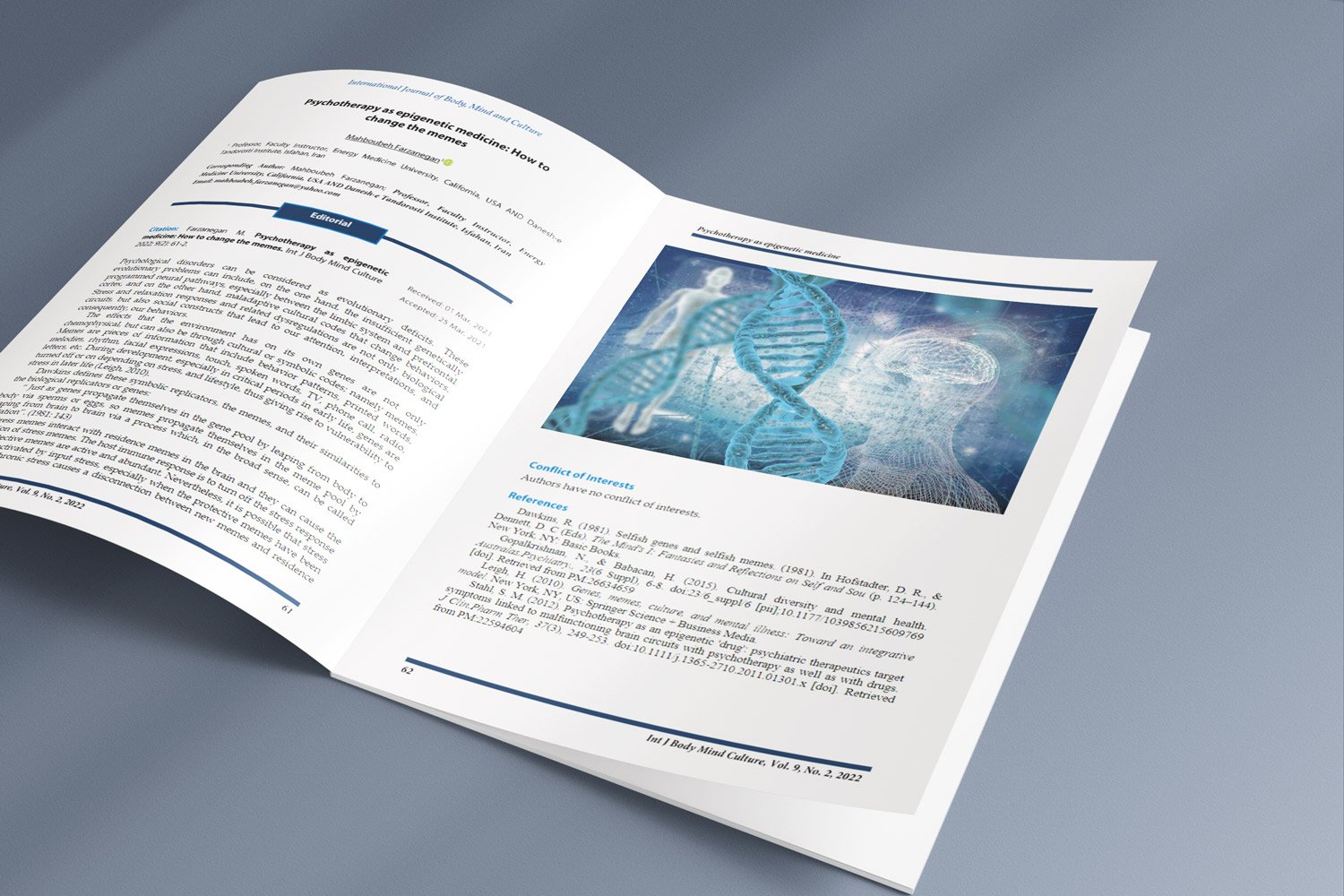 Downloads
Psychological disorders can be considered as evolutionary deficits. These evolutionary problems can include, on the one hand, the insufficient genetically programmed neural pathways, especially between the limbic system and prefrontal cortex, and on the other hand, maladaptive cultural codes that change behaviors. Stress and relaxation responses and related dysregulations are not only biological circuits, but also social constructs that lead to our attention, interpretations, and consequently, our behaviors...
1.
Farzanegan M. Psychotherapy as epigenetic medicine: How to change the memes. Int J Body Mind Cult. 9(2):61–62.
Downloads
Download data is not yet available.
Dawkins, R. (1981). Selfish genes and selfish memes. (1981). In Hofstadter, D. R., & Dennett, D. C (Eds). The Mind's I: Fantasies and Reflections on Self and Sou (p. 124–144). New York, NY: Basic Books.
Gopalkrishnan, N., & Babacan, H. (2015). Cultural diversity and mental health. Australas.Psychiatry., 23(6 Suppl), 6-8. doi:23/6_suppl/6 [pii];10.1177/1039856215609769 [doi]. Retrieved from PM:26634659
Leigh, H. (2010). Genes, memes, culture, and mental illness: Toward an integrative model. New York, NY, US: Springer Science + Business Media.
Stahl, S. M. (2012). Psychotherapy as an epigenetic 'drug': psychiatric therapeutics target symptoms linked to malfunctioning brain circuits with psychotherapy as well as with drugs. J Clin.Pharm Ther, 37(3), 249-253. doi:10.1111/j.1365-2710.2011.01301.x [doi]. Retrieved from PM:22594604
Copyright (c) 2022 International Journal of Body, Mind and Culture
This work is licensed under a Creative Commons Attribution-NonCommercial 4.0 International License.