Intelligent Patient Education: Saving Time and Increasing Nurses Efficiency
Keywords:
Patient education, Electronic, Nursing, Intelligent
Abstract
Background: Patient education completes value chain process in presenting therapy and care services to patients. Thus, it is necessary to use the latest technologies in patients' education. The present study aims to design an educational software to provide the verified scientific, educational and care data of the patients.
Methods: The software is performed in three stages: 1- Formation of databases including the nursing care based on the latest educational and care standards 2- Design an intelligent software to present care education based on nursing process 3- For pilot study, the relevant software is installed on some systems and it is used in at least three hospitals.
Results: The mentioned software presents valuable data in accordance to the needs of patients. Some of the advantages of this software include: Customization of education as their reading is easier; Simplicity of use with software can increase the availability of data for the patients; This software helps the nurses to guide the patients to receive the trainings in each stage of care process. 
Conclusion: Implementation of intelligent education system of patient reduces the frequency of visit to health centers and unnecessary admissions and this effectiveness cost of this system can save time and energy of disabled patients and increase the efficiency of nurses.
References
Adrian, F. Hernandez, M.D. Melissa, A. Greiner, M.S. Gregg, C. Fonarow, M.D. et al. "Relationship between early physician follow-up and 30-day readmission among Medicare beneficiaries hospitalized for heart failure," Journal of the American Medical Association .2015, 303(17): pp. 1716-1722
Kish-Doto, J. Scales, M. Eguino-Medina, P. and et al. Preferences for patient medication infor-mation: what do patients want? J Health Commun. 2014, 2:pp.77-88.
Krames, s. Patient Education, Heart Failure Outcome Study. 2009, 20(3):pp.45-49
Robert, A. "Educating Patients Before They Leave the Hospital Reduces Readmissions, Emergency Department Visits and Saves Money". New York : Elsevier; 2011
Robert Wood Johnson Foundation, "Combining Better Systems and Intensive Patient Education for Better Heart Care," March 24, 2010, http://www.rwjf. org/qualityequality/product.jsp?id=58789
Schoof, ML. Wallace, L.S. Readability of American Academy of Family Physicians patient edu-cation materials. 2014,46(4):pp.291-293.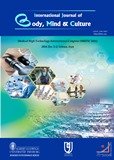 Downloads
How to Cite
Rezapour-Nasrabad, R. (2017). Intelligent Patient Education: Saving Time and Increasing Nurses Efficiency. International Journal of Body, Mind and Culture, S1-S3. https://doi.org/10.22122/ijbmc.v0i0.83
License
Copyright (c) 2017 International Journal of Body, Mind and Culture
This work is licensed under a Creative Commons Attribution-NonCommercial 4.0 International License.