The Role of GIS in Information System, Management and Decision Making in Hospitals and Ambulance Centers
Keywords:
Geographic Information System, Hospital, Emergency, the spatial information
Abstract
The exclusive capabilities of Geographical Information System (GIS) cab be distinguished in combining diverse and very different information sources, in real-time storage and retrieval of descriptive and local information, in evaluation and analysis of time trend of incidents in form of statistical and spatial modeling and in positional assessment on the effects of development. Above descriptions show that GIS has grown as the most powerful tool for management, decision makings and optimized and rapid access to the information required for the hospitals and ambulance centers. suitable readiness for effective response and rapid reaction to the conditions of the natural disasters like industrial incident and human made incidents, e.g. urban and road accidents is the objectives and responsibilities of hospitals and medical centers. Moreover more than eighty percent of the required information in ambulance centers are positional information or information that are somehow dependent to location. Hence, application of Geographical Information System technology will be very considerable and beneficial for hospitals in order to displaying the location and region coverage and to lead the teams toward the region, to make appropriate decisions in crises and disasters and for emergency management (especially in information related to HSE of industries). Also in the analysis and assessment of hospitals' information and injured that are referred to hospitals, using GIS technology will be improve applications of Information Technology in hospitals and emergency centers in the following fields:
-locating new areas for the construction of hospitals in according to the maps and different layers of data, analyzing reserved equipment and facilities for high risk situations, routing in order to provide the most rapid and timely aid, capitation of population of the region in terms of equipment and hospitals' beds, appointing places in danger of crisis and for emergency aid and finally creating patterns of diseases dominance and health problems in the field of hospitals for Planning and decision making based on evidence and documents.
References
Asten, Arnof. Managing Geographic Information System. Translated by Topography Organ, Geological Survey of Press. The first published. 1375:17-10
Star Jafari, Estes John. Geographic Information Systems: An Introduction. Translated by Seyyed Hossein Sanaeinezhad. Educational Department of Mashhad University. 1376
Zare Mohammad, Shamszadeh PArvin, Najjari Abbas.Application in health promotion planning. Journal of Guilan Medical University.The Fifteenth Years. 1385;59:53-48
Skinner ,Ric. ,GIS In Hospital And Healthcare Emergency Management ,CRC Press ,Taylor And Francis ,2010
Elliott,P. , Wakefield JC. , BesfNG , Briggs DJ., Spatial Epidemiology Methods AndApplictions Published by Oxford University Press,2000.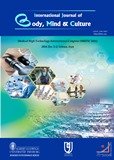 Downloads
How to Cite
Aminzadeh, S., Rabiee, M., Rezaei, Y., Farnaghi, M., & Bahmanabadi, M. (2017). The Role of GIS in Information System, Management and Decision Making in Hospitals and Ambulance Centers. International Journal of Body, Mind and Culture, S18-S23. https://doi.org/10.22122/ijbmc.v0i0.89
Section
Mini Review Article(s)
License
Copyright (c) 2017 International Journal of Body, Mind and Culture
This work is licensed under a Creative Commons Attribution-NonCommercial 4.0 International License.