From Geometric Nature to Natural Geometry: Bodies We Create for Ourselves
Keywords:
Body, Geometry, Nature
Abstract
One of the fundamental questions, which most of us have throughout childhood and until adulthood – and of course is usually forgotten or sometimes passes our mind very quickly –, is: "where do I end?" or "where does the world begin?" Perhaps you have never asked such questions explicitly; perhaps this question seems eccentric to you. Nevertheless, in the following discussion, you will surely remember that you have some relevant experiences.
References
Pallasmaa, J. (2012). The eyes of the skin: Architecture and the senses (3rd edition). London, UK: John Wiley & Sons Ltd.
Capra, F. (2002). The hidden connections. New York, NY: Doubleday.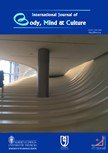 Downloads
How to Cite
Goli, F. (2019). From Geometric Nature to Natural Geometry: Bodies We Create for Ourselves. International Journal of Body, Mind and Culture, 6(2), 71-78. https://doi.org/10.22122/ijbmc.v6i2.158
Section
Theoretical Study(ies)